·
Donations If Desired To St.VincentDeTom
There is now a Repair Kit available for the otherwise expensive repair of the ABS unit.
€150 + VAT
Part Number:
1K0 698 517 B
ABS Unit Part numbers covered:
1K0 614 517 B, C, D, E, H, J, M, N, Q, T, AA, AB, AE, AF; 3T0 614 517, 3TO 614 517 A and 2K3 614 517
Diagnosis of G201 Sensor Failure
ESP light stays on irrespective of ESP switch position.
Repair Proceedure
Disconnect battery earth lead and remove battery if it makes access to the ABS unit easier (depends on model).
Remove the electrical connector from the ABS unit.
Open the front-left and rear-right brake bleed nipples.
Wedge the brake pedal about 60mm down from its resting position (this is to close off the ports to the master cylinder).
Close the previously opened bleed nipples.
Take a picture/drawing of the locations of the brake pipes as they connect to the ABS unit.
Remove the brake pipes from the ABS unit - first the two pipes that enter horizontally and then the four pipes that enter vertically.
Using the bungs supplied with the kit, block off the ports in the ABS unit to avoid fluid spillage.
Pull upward and rotate the ABS unit out of its holder and remove from the car.
Now replace the hydraulic unit with the new one supplied in the repair kit - this is simple (just two long setscrews, 6Nm torque). Be sure to keep brake fluid away from the electical contacts. DO NOT separate the motor from the ABS unit!
With the new part fitted the ABS/ESP unit can be refitted into the car.
Refit the brake unions and refit the battery and earth lead.
Remove the wedge from the brake pedal.
Connect VCDS and clear any fault codes.
Now use your pressure bleeder to 'pre-bleed' the hydraulics.
Using VCDS, connect to the braking controller. With NO PRESSURE on the brake pedal the pressure reading in Measurement Block 5 should be within the range +/- 3.8 Bar. If it is outside of that range then go into Measurement Block 66, login with code 40 168 and perform a zero-point calibration using the 'Basic Settings' option.
Finally bleed the brakes in the conventional manner (one brake at a time, FL, FR, RL, RR)
Images below are taken from a thrid party source as i've not taken any myself
New hydraulic unit (still with protective packaging on)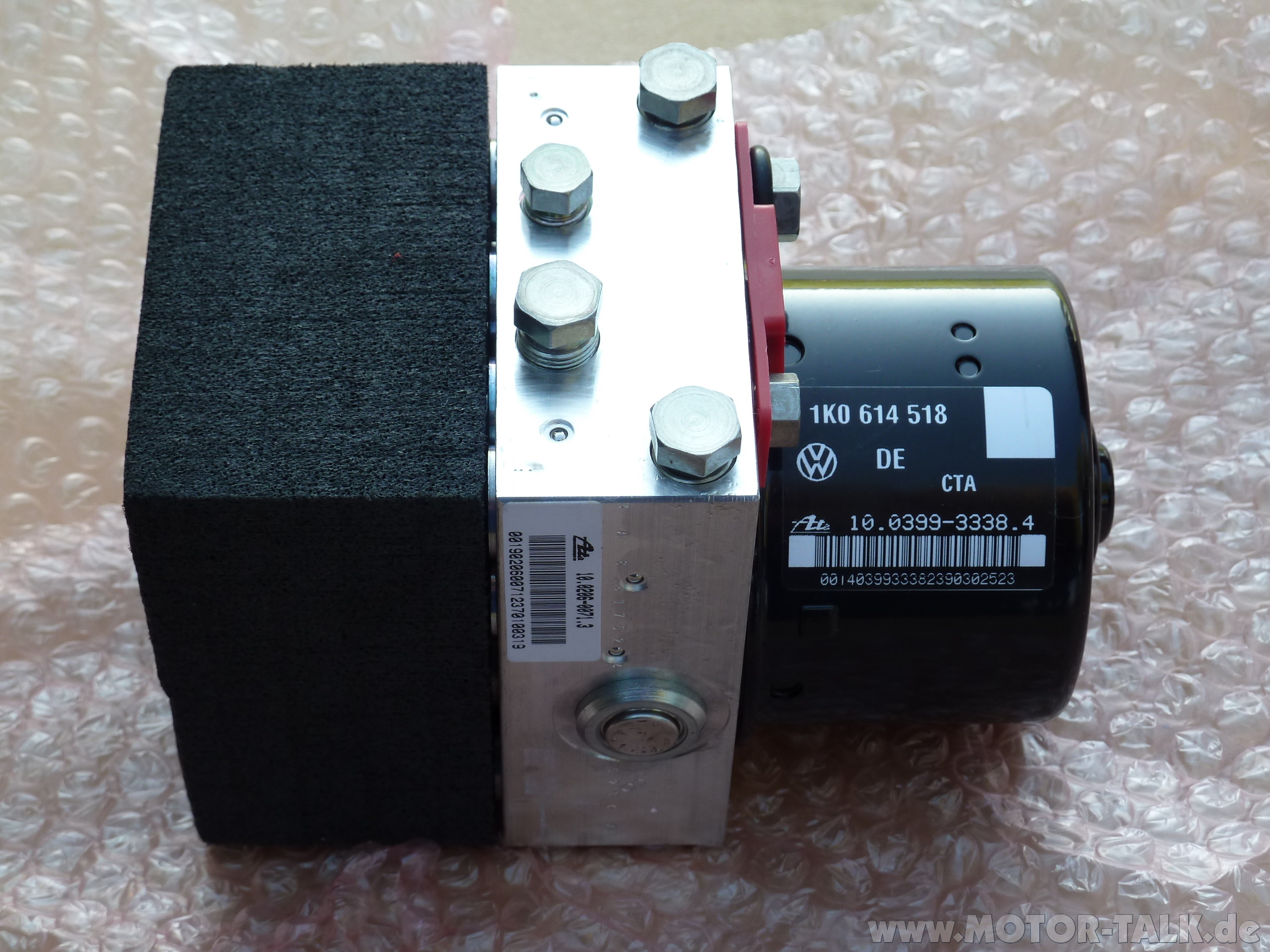 Underside of the new hydraulic unit (packaging removed) - the two holes where the clamping setscrews pass through are visible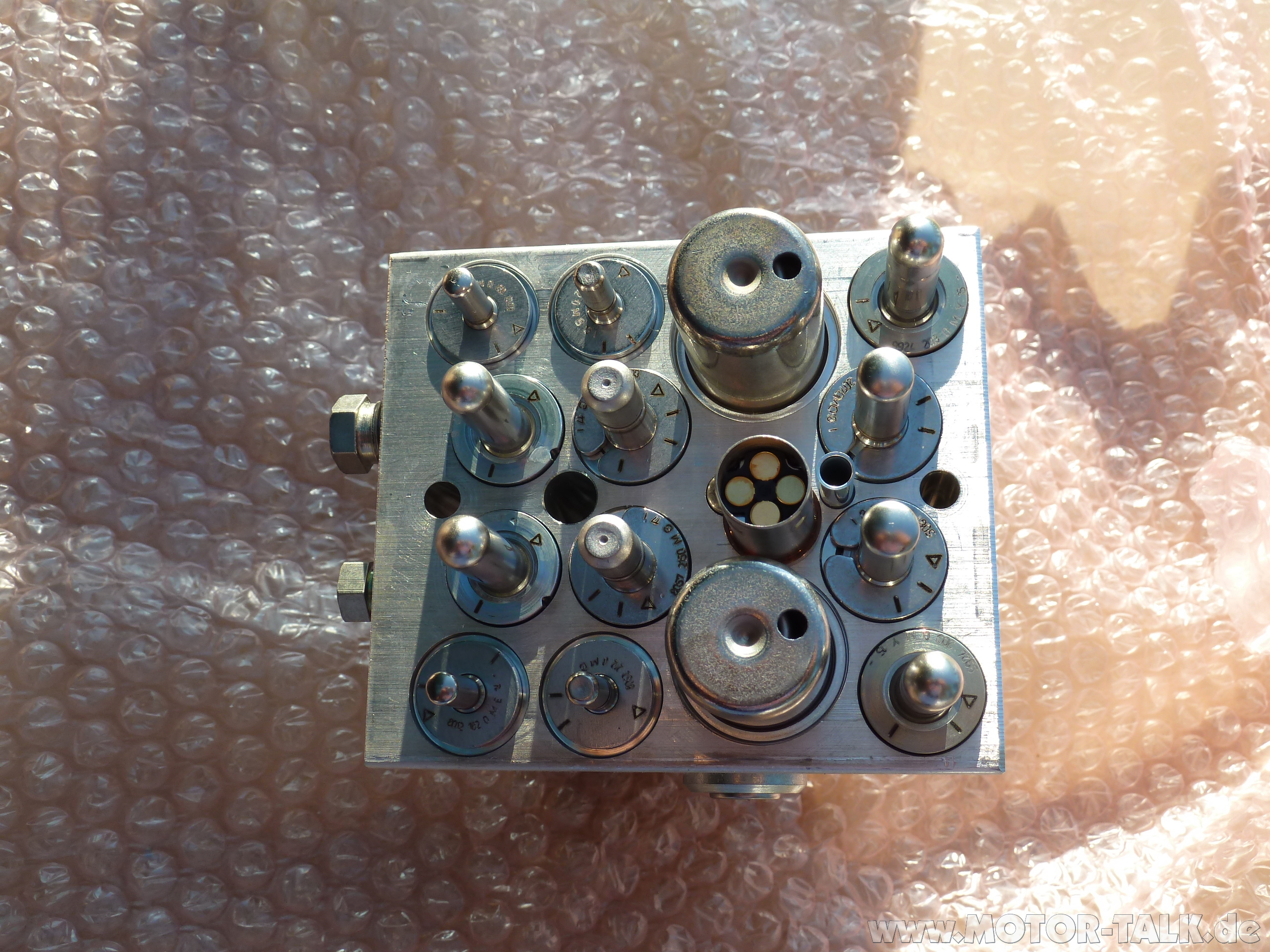 Front of the new hydraulic unit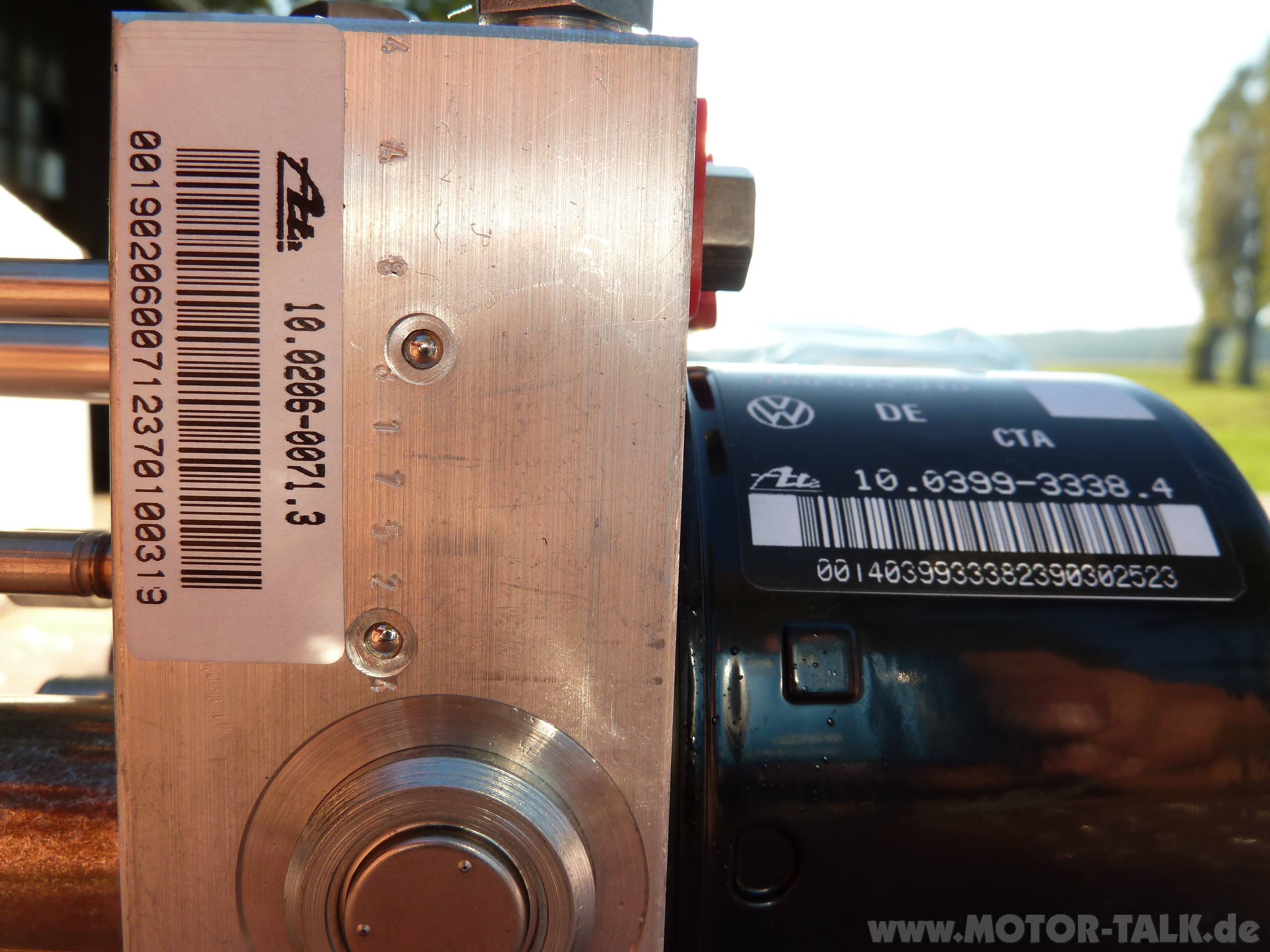 I have been driving with this failure for over 8 months as i was looking for an alternative to the extortionate prices that were being charged to repair the unit. Not to mention what VW wanted for a new one
Hope this helps
Tom