Hi, have a good few things about the place I could do with letting go,
4 spoke steering wheel with airbag, great nick, only changed as upgrading my own..
€40
ATD PD100 parts (never mapped or abused with the following parts, all available as upgraded to arl spec stuff):
Sidemount intercooler and relating pipework €70 ono
Front panel €80 ono
Rads and fans €60 ono
Turbo 115k miles excellent condition no / minimal play in shaft, never smokey €200 ono
Genuine r32 aluminium ash tray cover, from a LHD car, so the angle of the lid is slightly off towards the back as it goes under the obd cover, only visable on closed fully TBH, I had it for several months, but found one on the bay for RHD, so being anal I switched them around, Includes the compartment as well.
Would have to get €20 for it.
280mm disks, callipers and hubs as upgraded to 312's. Brand new oem pads last august, with new spurious disks. (possible upgrade for other cars???) €150 ono
Stock aerial mast: €5
Milltek exhaust reducer, fits de-cat to stock back box (2-1.5" I'm nearly sure) surplus to requirements, as I bought the cat-back before fitting the de-cat to my car.
€25
Indicator stalk, €5 no scratches, clean piece. (changed to cruise stalk)
Interior central front Reading lights, one non-sunroof and one for sunroof models both Grey, €15 each
Hazzard switch, rear window demister switch €1 each
Drivers side door handle / window mirror housing in black, *new* the way I bought the brushed alu triggers off the 'bay, they came in dealer packaging and both in new housings, I transferred my pass side into the car, but didnt need this one as I've the b5.5 mod. €5
Standard black rubber handbrake €5 Great nick
Drivers side only, standard mk4 golf tail lamp €10 ono
mirror including housing and colour coded base plates, the drivers side only recently resprayed in ly3d tornado red.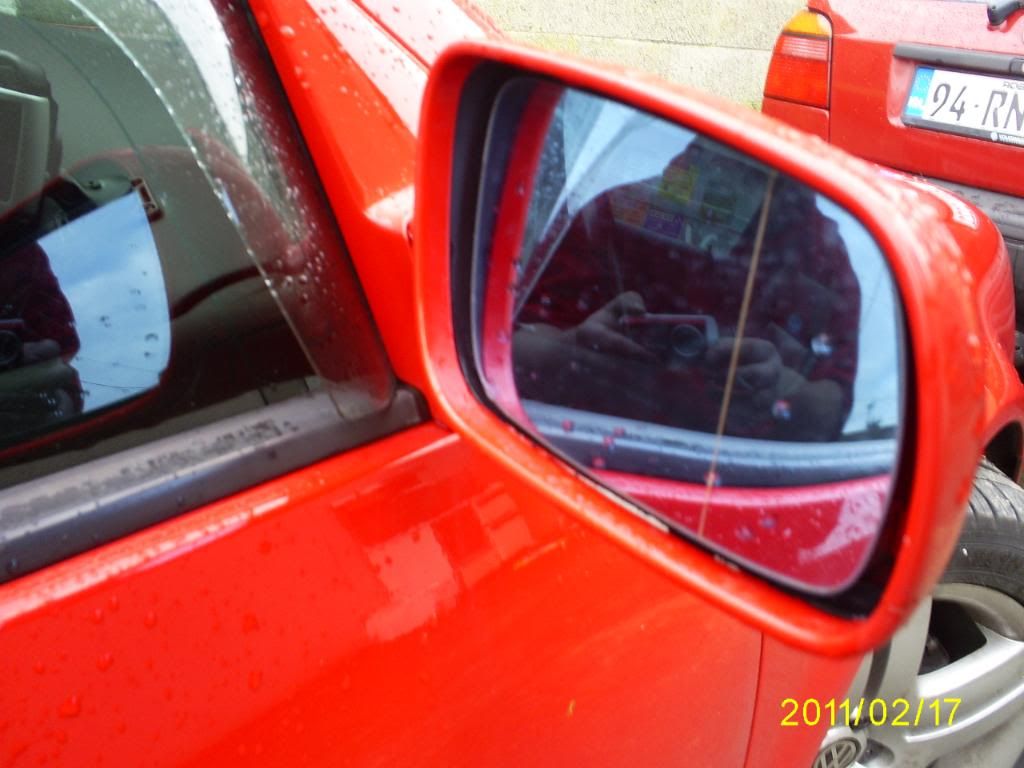 NO GLASS, €70
Spurious Clear US front markers, the ones that were on my car, I changed for tinted pair. €20
All parts located in Longford
I do be in Dublin quite often too.
Will consider postage, at buyers expense.
Can be got on here via PM is probably the best, but
086-1250485 is my mobile no.
Pics for other items by request..
Can be talked to about the prices
Thanks for looking.
Mossey